These mini knitted jumpers are super cute and you can use them for many different things, I am using mine as ornaments for my Christmas tree but you could also make a garland with them.
It's been a year since I learnt how to knit and a few weeks ago I finished my first knitted jumper which felt like such an amazing achievement.
I used one of the We Are Knitters sweater kits, you can read a full review over on my other blog if you are interested – We Are Knitters Nolita Sweater Review and with the leftover yarn I decided to make some mini knitted jumpers to use as ornaments for our Christmas tree. This is how the full size jumper looked…
And here is the mini version…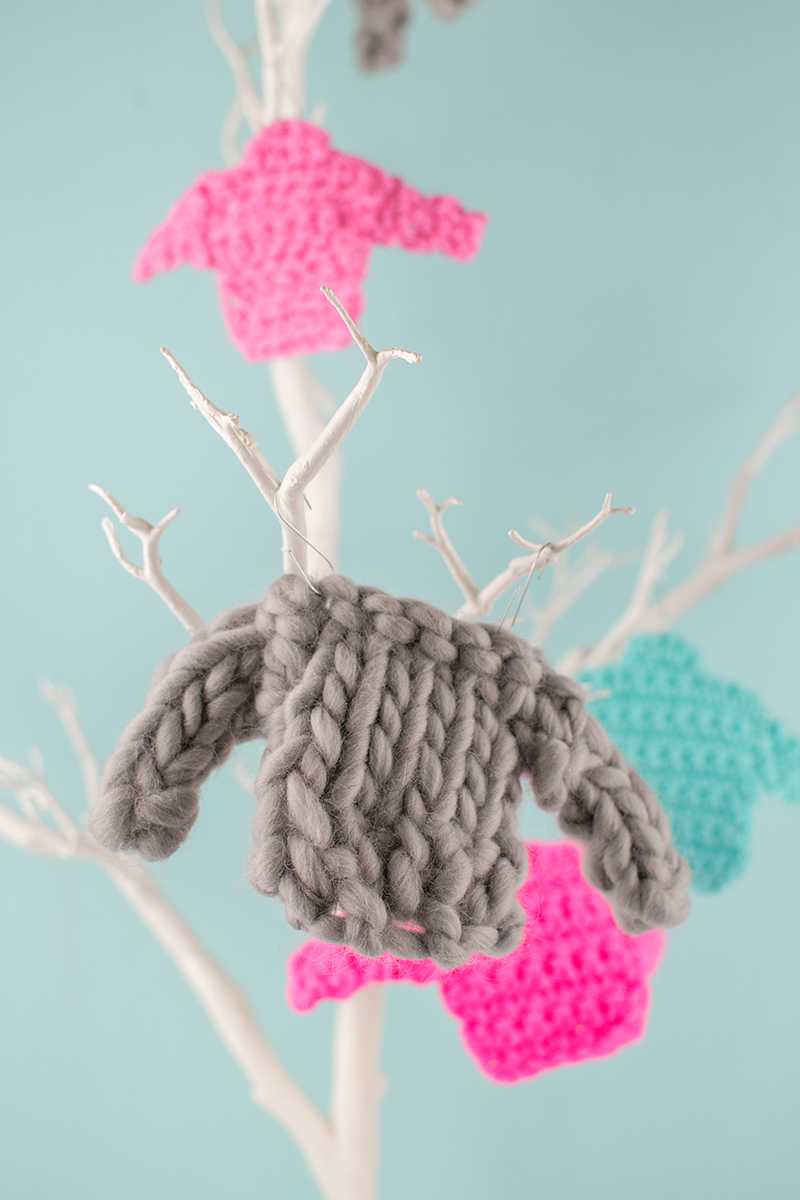 Making the mini knitted jumpers…
The wool I used is really chunky and I used 15mm knitting needles.
To knit the jumpers I casted on 6 stitches then knitted 7 rows in stocking stitch (knit one row, purl one row) then casted off. This gives you the body of the jumper.
For the arms I cast on 2 stitches then knitted 6 rows in stocking stitch before casting off.
I then attached the arms to the body using a large plastic needle.
I decided to just leave them like this as I didn't feel like they needed a back but if you did want to make them an exact replication of a jumper then you would just repeat the above steps then sew the front and back together.
The beauty of this is that you can just experiment with the stitches until you find a size that works, obviously that will depend on the size of the yarn and needles you are using but you can basically just do it on how it looks as you are working on it. If using smaller needles you might also like to add a few rows of rib stitch at the bottom of the arms and body, I didn't as my yarn was too chunky to notice it. You can see on one of the jumpers I tried it but it looked better without.
I used some little hooks to hang them up and they are now hanging nicely on my tree.
And if you can't knit but only crochet then check back tomorrow as I will be adding a crocheted version too.