Salt dough doesn't have to just be for making Christmas decorations, you can do all sorts with it including making ice-creams. This post will show you what we did as well as telling you how to make salt dough. It's really easy!
You will need:
– Salt
– Plain Flour
– Water
– Acrylic Paint
– PVA Glue / Mod Podge
– Yarn
All you need is:
– One cup of flour
– Two cups of salt
– One cup of water
You mix it altogether in a bowl, adding the water a little bit at a time as you might not need to use it all. When it starts to come together mix it with your hand until it forms into a ball. Then you can do anything you like with it.
To dry it you either leave it to air dry which can take a good few days or put it in the oven on a really low heat for a few hours. Be careful not to have the oven too high or they will bubble up. I had it on 50 degrees C.
We decided to make ice-creams because it's summer and we have been eating lots of them!
We cut them into ice-cream shapes, used a straw to make a hole in the top and scoured lines on the cones before putting them in the oven to dry.
Then when they were dry we painted them with acrylic paint. I used a layer of Mod Podge (watered down PVA glue works too) first to seal them, I also did this afterwards to protect them.
I tied some yarn through the holes which made them into little decorations.
Then we turned the others into necklaces…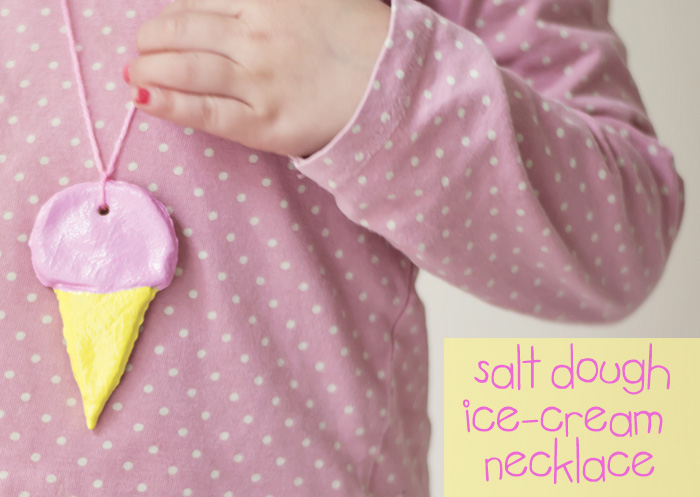 We also made some salt-dough ice lollies which was great fun as we molded them around lolly sticks before drying them so they stuck on and looked like real ice-lollies. You can see them here.