We've been using air drying clay quite a lot recently as Cherry loves it. You can do such a lot with it from small fiddly things right through to plates and bowls. It's really versatile and then you just leave in to dry and it will completely harden.
When playing around with it a few weeks ago we made these little sugar skulls and a few days ago we finally got around to painting them and turning them into the necklaces that we had planned.
You will need:
– White Air Dry Clay
– Cocktail Sticks
– Mod Podge
– Acrylic Paint in bright colours
– Tiny Paintbrush
– A Needle
– Some Yarn / Thread
We started by shaping the clay into sugar skull shapes then used a cocktail stick to decorate them. I say we but in actual fact it was mainly me while Cherry made the various other little things you can see in the photo below. They were probably a bit small for her and she was happy making doll's food but had she asked to do the same then I would have helped her make a bigger one.
When I had finished the decorating I made a hole through the top going from left to right (as oppose to back to front), you need to wiggle the cocktail stick around to make it big enough for a needle to get through as this is how they will be turned into necklaces.
Then you need to leave them to dry, this usually takes around 48 hours but can be a bit quicker if they are left in a warm place. We ended up leaving ours for a few weeks as we forgot about them!
When it came to painting I sealed them with a layer of Mod Podge first, this just stops them absorbing the water from the paint.
Using a tiny paintbrush I dotted painted them then left them to dry before adding another layer of Mod Podge to protect them.
When they had dried I threaded some yarn through the hole using a needle, I just separated a strand from a piece of yarn (made up of about 6 strands) but you could use some thinner thread.
Then they were ready to wear. Cherry and Tiger are both obsessed with skeletons at the moment so they were a real hit!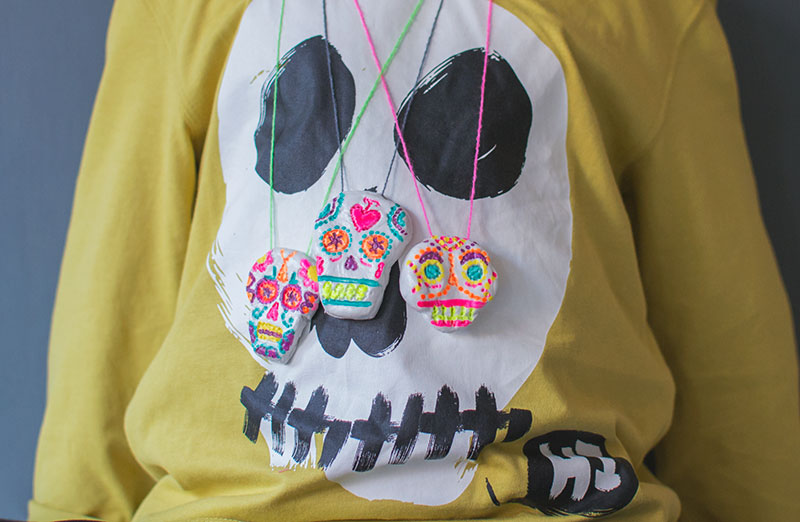 So that's how you make an air dry clay sugar skull necklace, hope you've enjoyed this craft!