Day of the Dead and Halloween are my favourite times for crafting, I love spooky things and skulls, plus it's a really fun time of year for us as Cherry's birthday is at the start of November.
This is an idea that we've been working on for ages, ever since we spotted some rocks that looked like skulls back in the summer.
We actually started painting them back in the summer too, when we could sit outside in the warmth of the sun!
You will need:
– Skull shaped rocks
– Paint
– Brushes
– Glue
– Glitter
We painted on the faces then once the paint had dried we went over parts with glue and added glitter on top for that extra sparkle.
I used acrylic paint but the kids just used water-based paint so it wouldn't stain their clothes. You can find all the things we used in the art and craft section of The Works.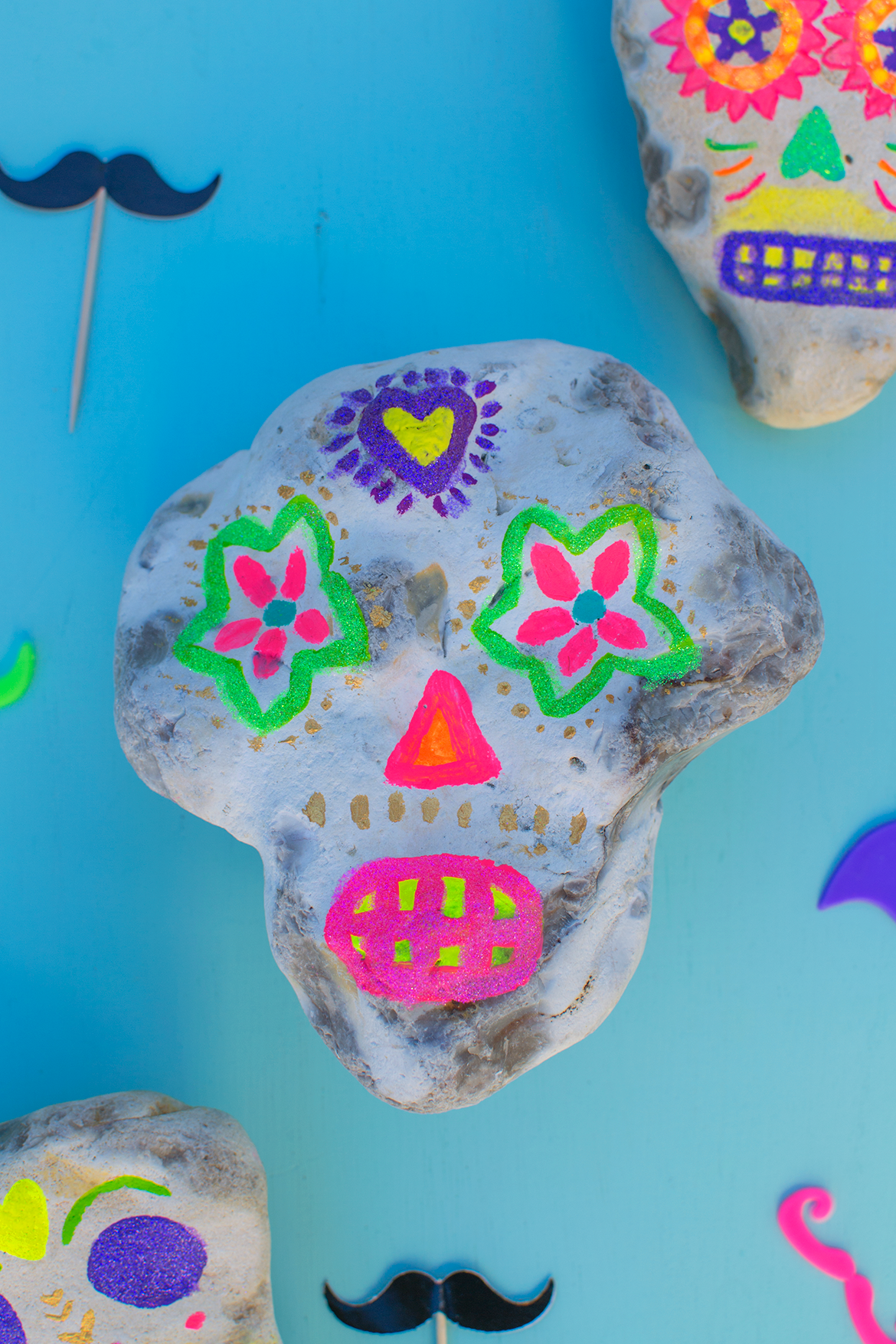 Ours are lined along our window sill, I think we might have to leave them out all year though as we love them so much!
If you enjoyed this Day of the Dead craft then you might also like…
How to make sugar skull air drying clay necklaces – we loved making these.
How to make Day of the Dead pitta bread pizzas – fun to make, and eat!
How to make sugar skull bunting.
How to make sugar skull hama bead decorations – Bright and colourful, using neon hama beads.
How to make spooky dress up masks for dolls – Cherry loved doing this and gave all her dolls a spooky makeover!
Super simple Halloween ghost bunting – using masking tape and yarn, so simple!
Cardboard scary doll bunting. We loved making this and still have it hanging up, two years later! We used buttons for eyes and stitched in mouths.
Air drying creepy clay heads. These are so spooky but kind of cute too! We stuck spaghetti into the top for hair and then splatted paint all over them, neon of course, for that extra bright look!
'Collaborative Post'