I recently learnt the corner to corner crochet technique and have become completely addicted to it, in fact it's the only form of crochet I've been using for weeks now. I just love the way you can design your own pattern on a graph then turn it into a crocheted square.
I have lots of graphgans to share with you but this ice-lolly design is the first one as it's really quick and simple plus it's a nice summer pattern and we don't have much of that left in the UK, not that we've actually had much in the first place 😉
If you aren't sure how the corner to corner technique works then there are lots of video tutorial on YouTube, I used this one by Bella Coco.
Here are a couple of things that I find useful:
– I join the new colour before slip stiching into the next block as I find it gives a neater looking finish.
– I also try and limit how many ends there will be to weave in by joining on a new ball of yarn instead of cutting and re-joining. If I don't have another ball of yarn then I unravel lots of it then cut it off giving two separate working yarns.
– It can get messy having lots of different balls of yarn joined on and they can get tangled so it's a good idea to stop every now and again and separate all the balls of yarn. I'm actually just waiting for my partner to make me a holder for them as I couldn't seem to find anything online.
I used a 4mm crochet hook with aran weight cotton, I really don't think it matters what yarn or hook you use though. Well as long as you are using a hook suitable for the yarn! I actually like to use a smaller hook that suggested usually. The white one in the photo was my first attempt and the white yarn was thinner so it's a different size to the rest.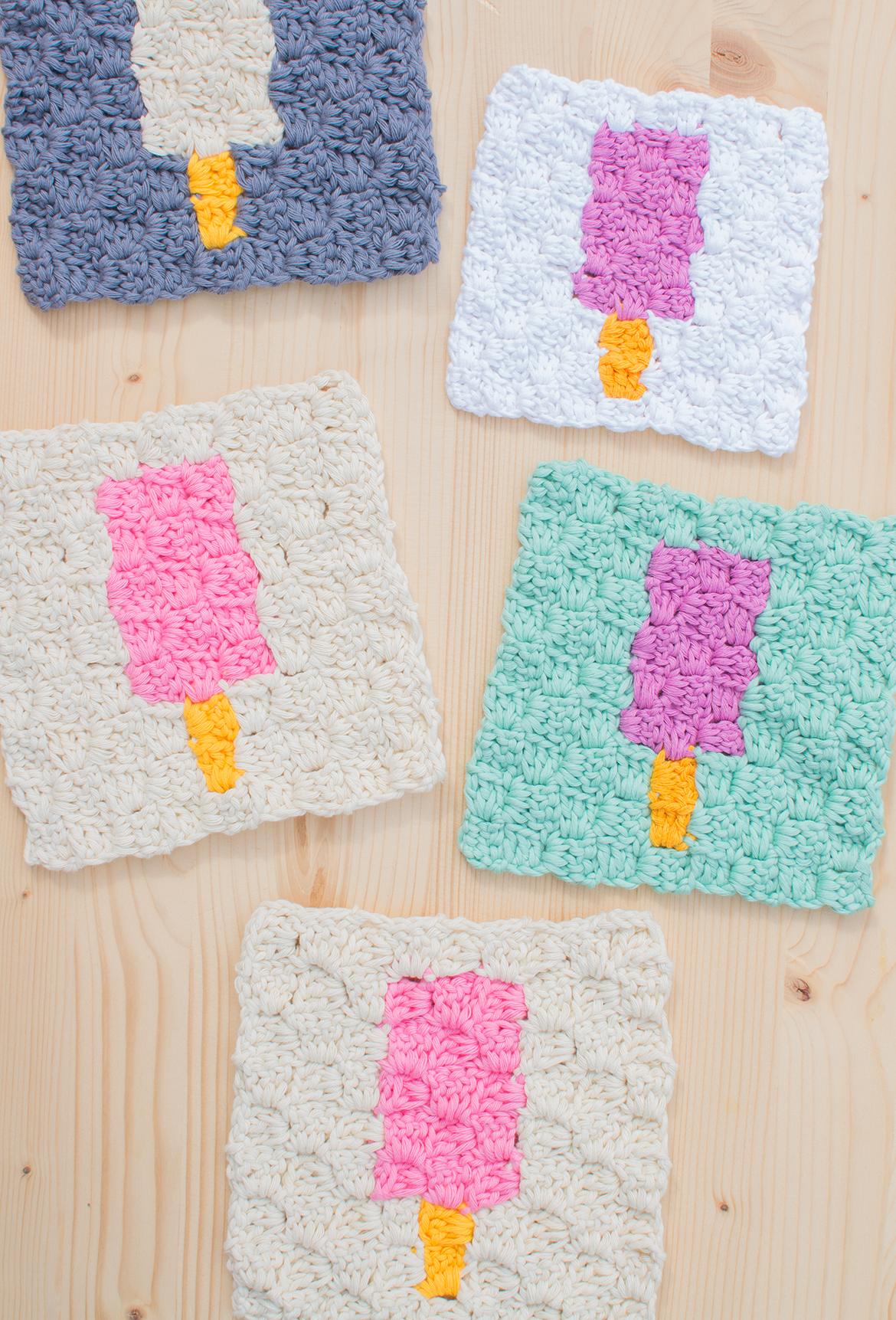 You could do anything with the squares, I'm going to try and make enough for a baby blanket but knowing me it will be next summer before I have it finished and ready to share on here! You could also make one and turn it into a mini wall hanging, I've been doing this with lots of my corner to corner designs, will share them on here soon.
This has been designed by me and is copyright protected. For personal use only, please don't sell.
Here is the pattern, just click on the link below to download.
I would love to see your creations so do use the hashtag #letsdosomethingcrafty if you share a photo on social media.