This is my first post in the Halloween Crafts category of this blog and I think one of my favourite crafts so far.
I decided to make some scary doll bunting and on the search for some inspiration I googled 'scary doll faces' – word of warning: NEVER DO THIS!! I came across some images that will haunt me for the rest of my life!! But it did help me decide on using buttons for eyes and stitched up mouths.
You will need:
– Black card
– Yarn
– A single hole punch
– Buttons
– Tulle
– A Stapler or strong glue
– Sellotape
– A large needle
I started by cutting some doll shapes out of black card.
2. Then I punched some holes through the card for the mouth. I used this X-Cut Screw Hole Punch which is my new crafting essential!
3. Then I threaded some yarn through all the holes and tied it at the back. I wrapped a bit of sellotape around the end to make it easy to push through.
4. Then I gave some of them noses using four holes and more yarn.
5. And buttons for eyes, I used a needle and embroidery thread to attach them but you could just use glue.
6. I punched holes around the outside of the head and tied yarn through them for hair.
7. I stapled on some tulle for the dresses and punched another hole through one of their feet to hang them upside down.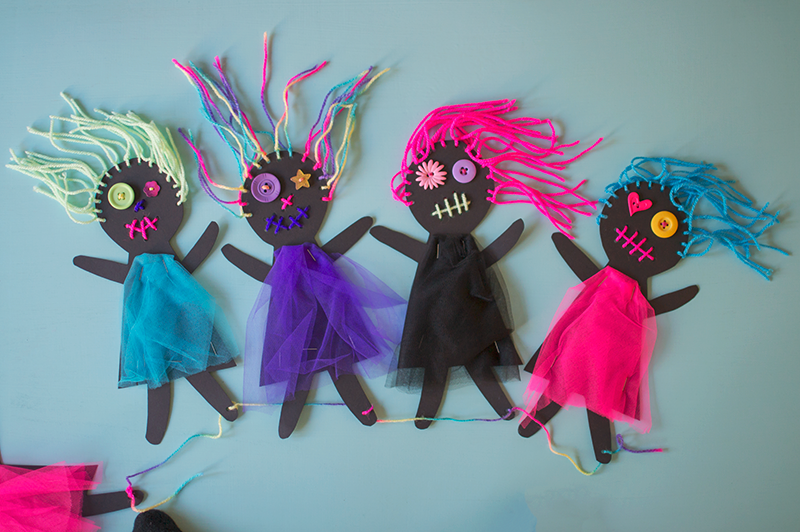 It's the perfect craft for Halloween and you might even want to leave it up after!