We had a day of non-stop rain this week and as I'm not a fan of going out and getting drenched we stayed indoors and crafted instead.
I've had loads of this natural colored fabric lying around for months so decided to use it for our activity.
To make these stuffed toys you will need:
– Natural colored fabric
– Fabric pens / paint (or you can use felt tips and normal paint like we did but it makes the pen run a bit)
– Toy stuffing
– Sewing machine / thread and needle
– Ribbon
I got Cherry to draw each member of our family on it then cut two layers of fabric around each drawing. Tiger is the little one that looks like a bird, I'm on the right and Mr C is on the left. There is something so endearing about children's interpretations of people.
Once she had drawn us all I turned the two pieces of to face each other and sewed around the outside leaving a gap big enough to stuff them. I turned them back the right way then Cherry did that part using toy stuffing whilst I sewed the gap in the ones she'd stuffed already.
Then the kids painted them, I didn't have any fabric pens or paint so we just used felt tips and kid's paint which made the pen run a bit. If you did have fabric paints then they would be a better option. Once they were dry I sewed a piece of ribbon on the back so we could hang them up.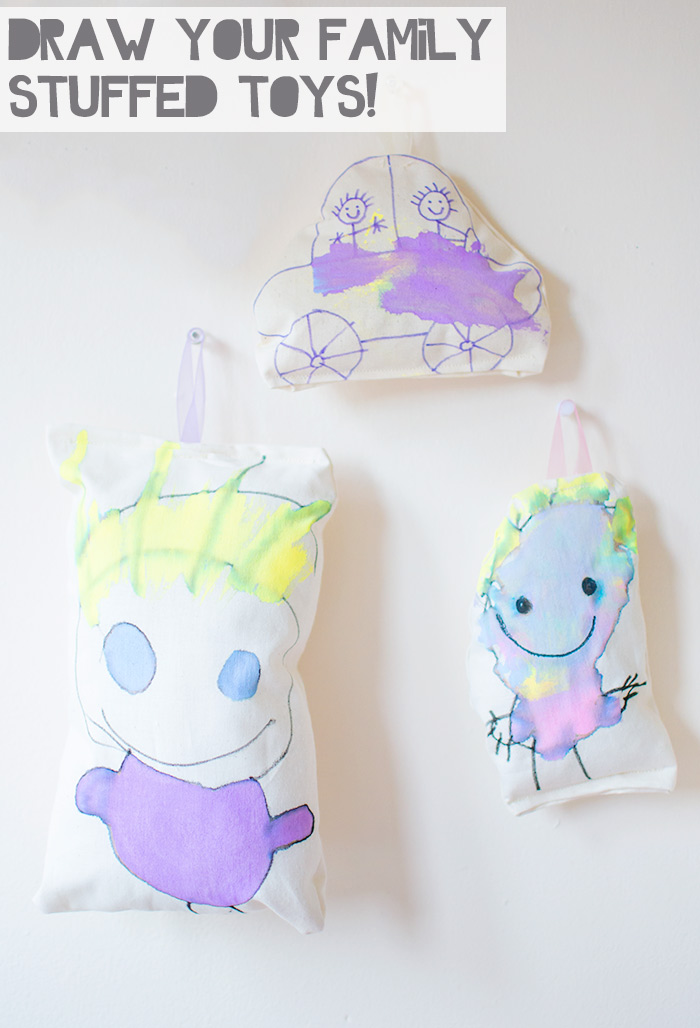 They were so easy to make Cherry is so attached to the one she drew of herself, she's had it in her bed for the last few nights.
They would also make a great present for grandparents, you could get the kids to write their name on too.
When I've got some fabric pens we are going to make some more as it would be nice to have a set to keep forever!