I've made this wall hook as my entry into a competition here in the UK. It's being run by Hillarys Blinds and you can read all about it here.
We were sent a metre of fabric (I chose Daisy Pistachio) and asked to create something with it. We were able to use any other materials we liked and the idea could be as creative or out there as we wanted – how fun!
My sewing skills are very basic so I knew I couldn't do anything too extravagant in that area so after having a little thing I decided to make a hook for Cherry's bedroom wall.
Mr C always has lots of bendy wire sticks (welding rods, you can buy them on Ebay, if you would like the link then just leave me a comment below) so I used them for the hooks but you could use an old coat hanger or even stick the doll onto a wooden hook.
To make this DIY hook you will need:
– Fabric for the doll's skirt / top
– Natural fabric for the doll's body
– Toy stuffing
– Yarn for the hair, eyes, nose and mouth
– Large needle
– Bendy wire
– Piece of card for the template
I started by drawing a doll shape on a piece of card. I then drew a line around the outside on to the natural fabric (two layers of it) adding on an extra cm for the seam allowance.
I didn't go all around the skirt either, just about 2 cms down from the waist as I made the skirt out of the other fabric.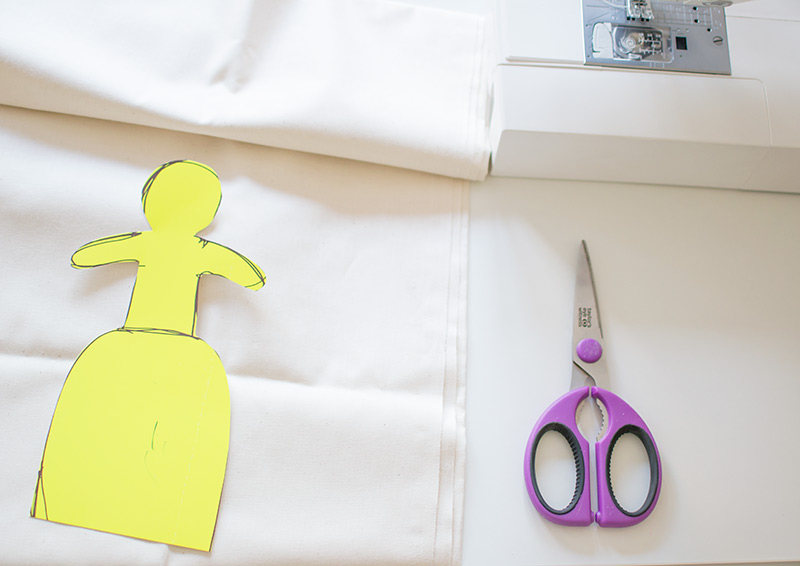 After cutting the shape out of the natural material I then sewed the eyes, nose and mouth on to the face area of one piece using the large needle and one strand of the yarn (if you twist the main part then it's made up of about four separate strands). You could also do this with embroidery thread but I didn't have any.
Then I stitched the two doll pieces together (face to face) leaving the bottom open and turned it inside out before stuffing and sewing along the bottom.
Then I made the skirt and top, I just cut the two pieces, sewed a hem around the outside them sewed the front pieces together and turned inside out.
For the hair I cut lots of really long strands then tied them together in the middle and stitched them onto the doll's head.
And finally I used my glue gun to stick the bendy wire hooks on the back of the doll before adding a loop of yarn at the back of the head so I could hang it up.