One of my plans for this year is gain some new crafty skills and learning to weave is one of them.
I love how they look and the fact they instantly brighten up a dull looking wall, I also love the fact it's perfect for doing whilst sat on the sofa in the evenings because despite my best efforts by 8pm that is the only place you will find me.
If you aren't sure what weaving is then here is my Pinterest weaving board..
Follow Jess @ Along Came Cherry's board WEAVING on Pinterest.

Apparently it's something lots of people learnt as kids but but I never came across it when I was growing up, in fact the first I knew of it was when I saw photos on Pinterest a couple of months ago.
I really wanted to give it a go so made a loom out of some cardboard. I found instructions a bit confusing so I just made it up as I went along in the end.
I started by winding yarn around the snips that I had cut in the cardboard and sellotaping the ends to the back.
Then I started to weave yarn in and out of the strings.
If you want to start a new colour then just leave the last one with a long tail then you can tie it all at the back afterwards.
When I reached the end I cut down the middle of the strings and carefully tied each set of two together, at the top I did this over a straw as you can see in the photo below.  I also tied the first string to the end of the weaving yarn.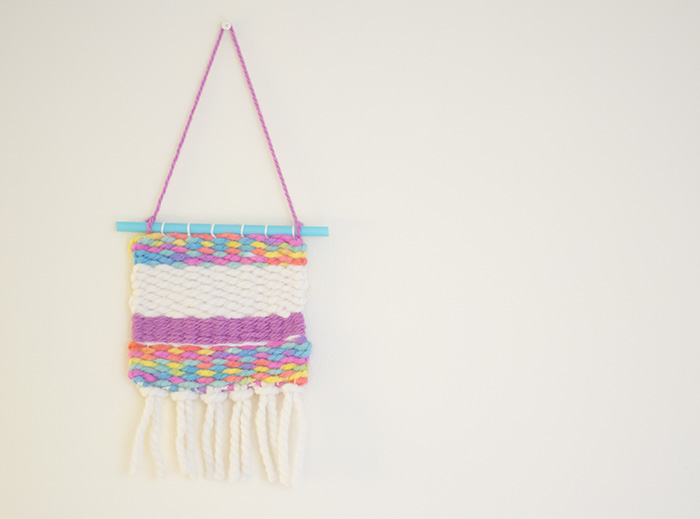 Then I tied some yarn on to each end of the straw to hang it up.
I added the tassels at the bottom afterwards by looping each piece of yarn through the hole and pulling tight.
I'm quite pleased with it for my first attempt and it's so addictive that I ordered a wooden loom which I can't wait to try out. I have lots of ideas so no doubt my walls are going to be full of weavings soon!