This cardboard hat has ben made with an old cereal box!
I don't know about you but we get through lots of cereal in our house, especially Weetabix, it's Tiger's favourite and I swear he would eat about five in one serving if he could (he's only one!).
As a result we always have lots of empty cereal boxes lying around, and I love making things out of rubbish that would otherwise just be thrown away, you might have realised that by now?!
So yesterday I decided to make a cardboard hat out of one of the empty cereal boxes.
I started by cutting off the largest part of the cereal box and measuring around her head with some yarn.
I then cut around the yarn to make a hole and cut around the outside to make this shape, if you like things to be neat then measuring it would be the best way but I tend to just go for it even if it does end up being a bit wonky!
Then I just used some card to make up the rest. I used my glue gun to stick the bottom part together and a staple to fix the two sides but you could just staple the whole thing.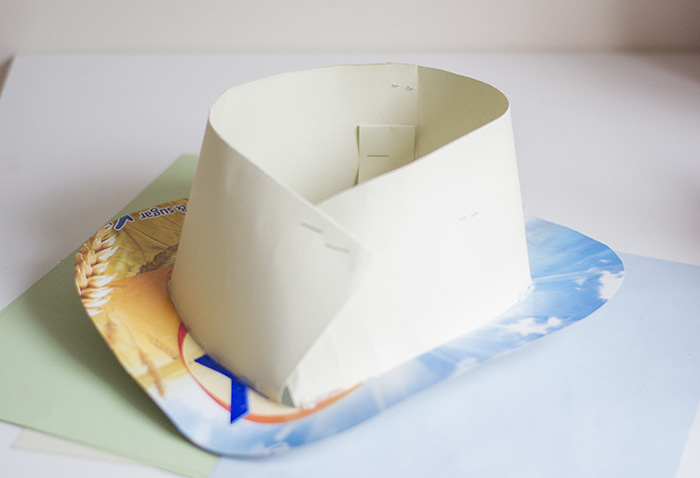 Once you have that shape it's ready to decorate!
We just covered this one with some fabric scraps we had lying around. I used PVA glue and added a layer on top of the fabric too to protect it. I put the biggest piece of material over the top and stuck it down the sides then just cut the rest into strips so it fitted around the shape of the hat easily.
You could do anything you like though, theme them for a party or paint them.
We are already planning our next cardboard hat, we are going to stick lots of feathers on and I'm planning to attach some dangly beads too.
More cardboard crafts for kids…
These cardboard shape necklaces are great fun to make, kids can decorate them in with paint and glitter before wearing them.
These cardboard photo frames are wrapped with yarn and are really bright and colourful.
These cardboard clocks are a great way to teach kids to tell the time.
These Easter Egg glasses are fun to make at Easter.
If your kids are too young for a real glass mirror then why not make a no glass cardboard mirror?
This swimming pool for dolls has been made from an old cardboard box.
And how about making a giant doll's house?
Or a dolly garland?