I've mentioned before that I love making things with cardboard boxes that would otherwise be thrown away. When we ended up with a huge one I knew I wanted to turn it into a dolls house.
 I used a bread knife to cut the front off and make the holes for the windows. Admittedly I didn't bother measuring them so they are really wonky which doesn't bother me but if you like things to be precise then definitely measure!
I turned the top of the box that I'd cut off upside down and used it as the bottom floor, you can see this in the photo below. Then I folded the roof in half and stuck it on the top. I used corrugated cardboard to cover it too.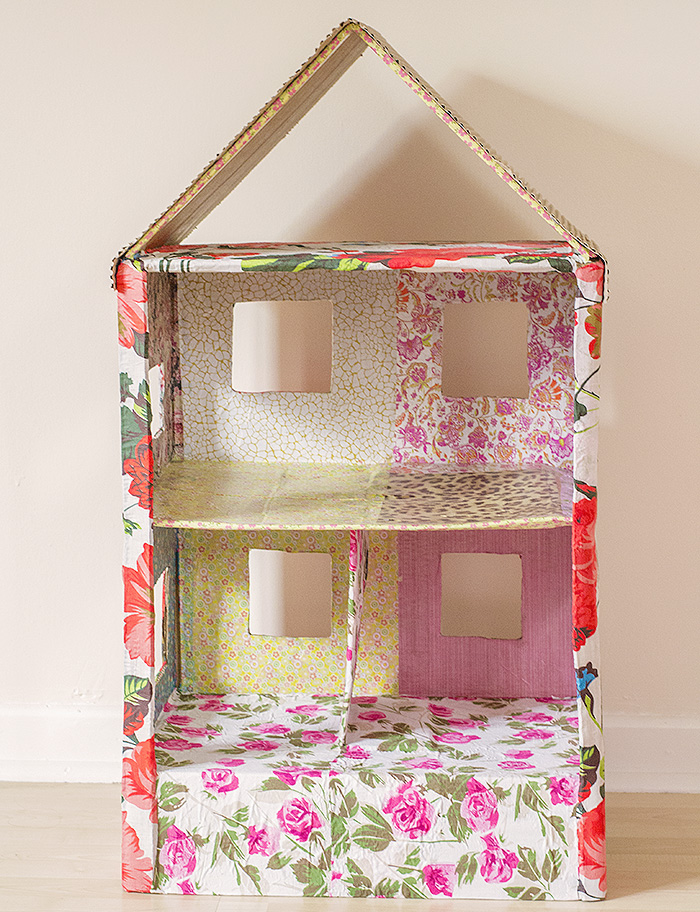 I also put slits in the side and inserted another piece of cardboard to make the upstairs floor.
I used my glue gun to secure it all in place.
I used some leftover decopatch paper we had lying around as wallpaper, it is a very random selection but I don't really mind that. I used some decopatch glue for that, one layer underneath and one on top.
Then I used a couple of my old dresses to cover the outside and the bottom floor. I just used PVA glue for that part.
Then I used my glue gun to stick some corrugated cardboard on the roof and washi tape (I got mine from here) to cover all the open edges. I used a layer of normal sellotape over the top to secure it.
The dolls house is so sturdy and absolutely huge, a wooden one of the same size would cost around £200 and this cost absolutely nothing!
Of course if you wanted to then you could spend more money on choosing matching decopatch paper for the inside and out but I wanted to do it using things we had lying around.
Next step is to sort out the furniture, curtains and to add a staircase going down from the loft to the middle floor.
Why not try setting up an Ice-Lolly Stick Play Mat outside the house too?
More cardboard crafts for kids…
These cardboard shape necklaces are great fun to make, kids can decorate them in with paint and glitter before wearing them.
These cardboard photo frames are wrapped with yarn and are really bright and colourful.
These cardboard clocks are a great way to teach kids to tell the time.
These Easter Egg glasses are fun to make at Easter.
If your kids are too young for a real glass mirror then why not make a no glass cardboard mirror?
This swimming pool for dolls has been made from an old cardboard box.
And how about making a giant doll's house?
Or a dolly garland?